Skin. It's quite remarkable. It's always living, breathing and growing from the moment we are born. While it does plenty of living, it also does plenty of dying too, leaving dead skin cells at the top layer. It reacts to weather, stress and different circumstances; the results of which can be extremely visible.
We can begin to develop frown lines, crow's feet and wrinkles as young as our late 20s. Think you're safe from acne scars? Most people think that acne is something only adolescents have to deal with. Nothing could be further from the truth. And with acne, comes scarring that can last even longer.

Take for example, the man who lives in the harsh, dry environments of the California desert, working outside and exposing himself to dirt and grime. This individual can absolutely benefit from a facial treatment. So can the office dweller who spends all day exposed to the same circulated air and may experience dry indoor conditions.
However, you don't have to be a rugged desert nomad or office chum to benefit from a facial. Are you seeing the effects of stress, weather and circumstance on your skin? If so, Verde Salon has a plethora of facial treatment options that will work for any season. Some are light and last only 30-minutes. Escape on your lunch break for a mid-day pampering. Others are 60-minute treatments involving more extensive procedures, such as microdermabrasion.

Before your facial, be sure to avoid too much exposure to the sun, at least a week prior. If pore-cleansing and extractions is what you seek, be sure to schedule your facial for the end of the day or week. This will give your face ample time to relax and prepare.

Here are the best facials available on the market right now. When reserving a facial appointment, consider the following: what you're looking for, your budget and how much time you have to spare for your skin.
Classic Facial
Keep it classy and simple with the basic facial. Depending on the facility, you may have the option of a 30 or 60 minute session. This basic technique will cleanse, exfoliate, extract and moisturize. The classic facial procedure is perfect for everyone from desert dwellers with dry, leathery cowboy skin to everyday individuals who endure the stressors of modern life. A classic facial will rid clogged pores of dirt and grime buildup. Warm steam will be used to open up the pores with the help of a hot, wet cloth. If you're in a hurry, reserve a 30-minute session so you can be on your way, with fresh skin and a fresh perspective on your day.
Microdermabrasion
Microdermabrasion is a fascinating modern marvel of skincare. Microdermabrasion is sometimes referred to as an "instant facelift" because of its fast-acting results. The technique involves a handheld device that sprays tiny crystals onto the surface layer of the skin and then sucks up the dead skin cells that have been exfoliated. When this layer has been cleaned out, the results will be immediately evident. Among which are: the reduction of fine lines and wrinkles, minimization of acne scars and the slight fading of stretch marks, age spots, blackheads and hyperpigmentation. (Hyperpigmentation occurs when the skin produces excess melanin.)
Microdermabrasion also stimulates the production of collagen, which will restore your skin's natural radiance. Finally, experience that glow you used to know before weather, stress and circumstance faded it away.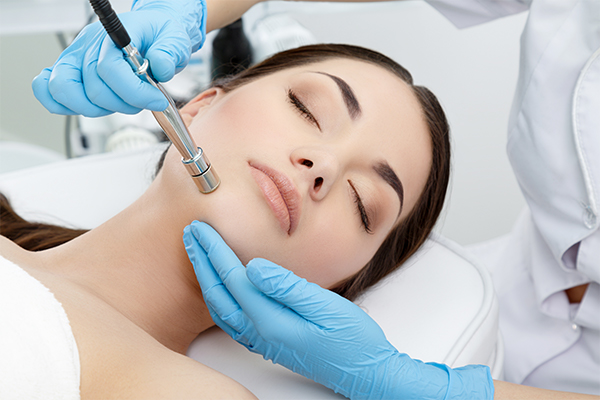 Dermaplaning
This technique is somewhat similar to shaving. Don't worry, dermaplaning doesn't actually shave your skin off, but it will lightly scrape across the surface of the skin in order to remove vellus hairs ("peach fuzz"). Everybody has these little hairs; their biological purpose is to insulate our skin and assist with thermal homeostasis. However, some people have relatively thicker vellus hairs. These individuals are prime candidates for dermaplaning.
A surgical-grade scalpel is used by a qualified practitioner to gently scrape over your skin and remove the dead surface cells, resulting in silky smooth skin. The procedure does feel a bit dry and scratchy, and may leave you with red skin and soreness. Therefore, it's important to counter this with a soothing moisturizer cream after your procedure.
Vitamin C Facial
Your body can always use more Vitamin C and the same goes for your skin. When you hear "Vitamin C facial," you might assume it involves rubbing orange slices on your face. You'd be surprised to find it instead involves sunflower seed oil.
This facial treatment uses sunflower seed oil, which is heavy in oleic and linoleic acids and is known for improving skin clarity and radiance. These are separate components entirely from Vitamin C and added bonuses. This vitamin is filled to the brim with antioxidant properties and even stimulates the production of collagen. Collagen is the protein us mammals create that is responsible for skin elasticity. When it starts to dwindle on our faces, things can appear sunken and hollow.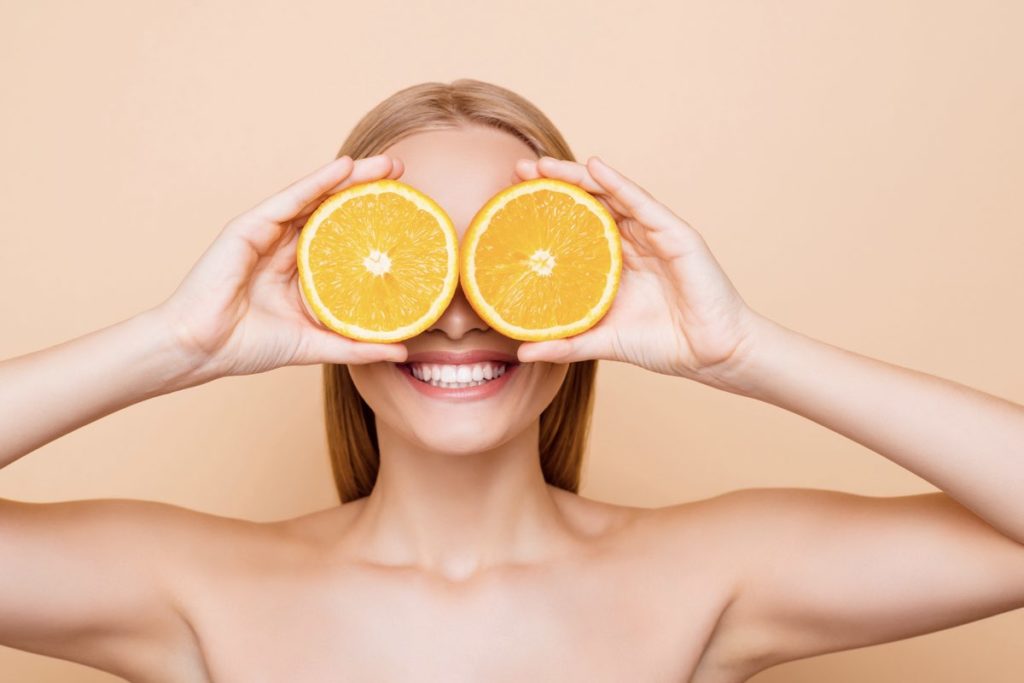 Perfecting Plant Peel
At Verde Salon, we use the Aveda Perfecting Plant Peel, which is a plant-powered thermal peel used to shed the outer layers of dead skin for instant exfoliation. What's great about this treatment is that it doesn't come with the redness and scratchiness synonymous with other techniques. It's even used to treat that uninvited adult acne that refuses to leave you alone well into your 40s.
Brightening Facials
Sometimes our skin emits a dull and tired aura, especially after an exhausting day. And sometimes the sun is the culprit for leaving its powerful effects on your skin that leaves you looking like a fatigued Droopy Dog. A skin brightening facial combines the use of masks, enzyme peels and acid treatments that will clean house of all dead-skin particles and sun damage.
The effective use of exfoliants are guaranteed to smooth your skin and minimize the appearance of sun and age spots. From a more microscopic standpoint, the botanical extracts within will prevent further cellular discoloration and help you achieve a beautiful, tonal balance. In the end, you will be glowing.
LED Facial
There are certain wavelengths of light that are invisible to the naked eye, but when harnessed can be used for facial purposes to rid the skin of acne. LED (light-emitting diode) Color Light Therapy is a popular Facial used to stimulate cell growth, improve overall complexion, reduce redness, minimize the appearance of sunspots or fine lines and smooth wrinkles. Don't be intimidated by the colorful science fiction-esque lights dancing across your face during the procedure. We promise there's no memory wiping or mind control involved, just top-notch skincare.
(light-emitting diode) Color Light Therapy is a popular Facial used to stimulate cell growth, improve overall complexion, reduce redness, minimize the appearance of sunspots or fine lines and smooth wrinkles. Don't be intimidated by the colorful science fiction-esque lights dancing across your face during the procedure. We promise there's no memory wiping or mind control involved, just top-notch skincare.
Microneedling
This skin rejuvenation procedure is also known as "collagen induction therapy," and it aims to stimulate the body to create new collagen and elasticity in your skin. Microneedling also aims to improve skin texture and tone, reduce pore size, improve scars and overall, it brings back that same "glow" we are talking about.
Sometimes microneedling is used with PRP (platelet-rich plasma). Platelets are healing agents found within our own bodies. Sometimes these healing agents are harnessed for purposes of skincare. It was Kim Kardashian who brought this technology to the mainstream all thanks to one instagram post and like a shot heard around the world, people caught on to the technique known as the Vampire Facial. In this facial, microneedling blends with PRP and the healing process begins to accelerate at a faster rate. As a result, that new fresh collagen and elasticity is formed. It's the ultimate anti-aging treatment.
When selecting the right facial procedure for your needs, it can become overwhelming…especially with the long list of techniques out there. First, select what you want to treat. Is it acne, acne scars or do you simply want to open up your pores and treat that dry skin?
The next thing you should be thinking about is the quality of ingredients. Glycolic or enzyme peels, for instance, will help remove the dead skin cell layers that are responsible for your pores appearing overly large. Then, there's Vitamin C, which is responsible for brightening your complexion. Know what you're putting on your skin.
Finally, be sure to select the right practitioner to undergo the treatment; if you need a medical facial as opposed to a spa facial, the procedure will likely be done under the guidance of a physician or dermatologist.
Now that you understand more about what getting a facial involves and the types of facial treatments available, reach out to us at Verde Spa in Virginia Beach and see which procedure is perfect for you. Just because collagen is dwindling, it doesn't mean we can't proactively make an effort to stimulate its production, like a well oiled ship of skincare. If anti-aging results is what you seek, maybe microneedling is your cup of tea. If you're looking to turn tiresome-looking bags under your eyes into a shining glimmer of youthfulness, then check out brightening facials. You are in full control of your skin.