You see a full head of long hair blowing in the breeze, lush, luxurious locks that look like spun silk. You think to yourself, "Is that her real hair?" If you have to ask the question, either that girl has been gifted with gorgeous hair genes or has the most amazing hair extensions.

As you look in the mirror at your own thin hair or are regretting that pixie cut and having a hard time waiting for it to grow out, you just wish you could have long flowing hair too. Well, you're in luck. Verde Salon and Spa Virginia Beach has you covered. What used to be considered a high priced secret indulgence with tell-tale signs is now a mainstream beauty item that everyone wears and everyone wants. From the Kardashian-Jenner clan and their ever changing hair lengths and highlights to the clerk at your local supermarket, it seems everyone has them.

History of Hair Extensions
Hair extensions are not a new concept. They didn't even originate in this century. In fact, Cleopatra was among the first to wear hair extensions. In the 3400 BC, the ancient Egyptians made hair pieces out of dyed sheep's wool and it was sewn into their own hair. This carried through to the late 1800s when over 100 tons of human hair was imported to Britain from France and sparked a boom in the industry.
What Hair Extensions Used To Be Like
The hair extensions that we see today are nothing like what they were in the past. The Switch was first introduced in the early 20th century. This was the first time we ever saw hair extension clip-ins. Before the 20th century, Hair extensions were made from horse or sheep hair and instead of clipping into the hair, they were sewn in or even worn as wigs.

Drawbacks Through The Years
Hair extensions of the past put a lot of stress on the scalp and the hair itself. It caused major hair damage at the root and on the hair shaft. Women were losing and breaking their hair so often that many would have to cut their hair completely off after removing the extensions. This would drive them to wear wigs until their hair grew back once again. It became a vicious cycle.
Hair Extensions Today

When you think of hair extensions you're most likely thinking of the type most people use today which make their hair longer and fuller. In the early 1900's, though, hair extensions were used to create styles such as the pompadour and the beehive. It wasn't until Simon Forbes, a hairdresser in the1980's found a way to add hair length and volume by gluing human hair to existing head hair using melted candles that the hair extension market began to explode.
Types of Extensions
Today we have many types of hair extensions ranging from permanent to daily wear and each come with their own unique application style. The type of hair extension that you choose to go with is ultimately a personal decision. Each comes with their own pros and cons, but the most important thing is how the extensions feel on your head and how they will work for your everyday life

Clip Ins
Clip-in hair extensions are the cheapest and easiest way to try hair extensions, if you aren't ready to commit to something more permanent. They work by clipping to hair, underneath existing layers. You can purchase as many as you'd like in any color to add volume, highlights, and length to any style. From clip in bangs to varying lengths and thickness, the choices are vast and the application is easy.

Pros:
They're quick and easy.
There's no commitment.
You can change up color, length, and volume daily.

Cons:
They look the least authentic.
They can fall out more easily.
They can be felt more easily.

Ponytail extensions
Ponytail extensions are another daily wear extension that you can add to your hair to make a skinny ponytail appear thicker and longer. Most come with a band that matches your hair color and type, so adding them into your hair is as easy as using a hair tie.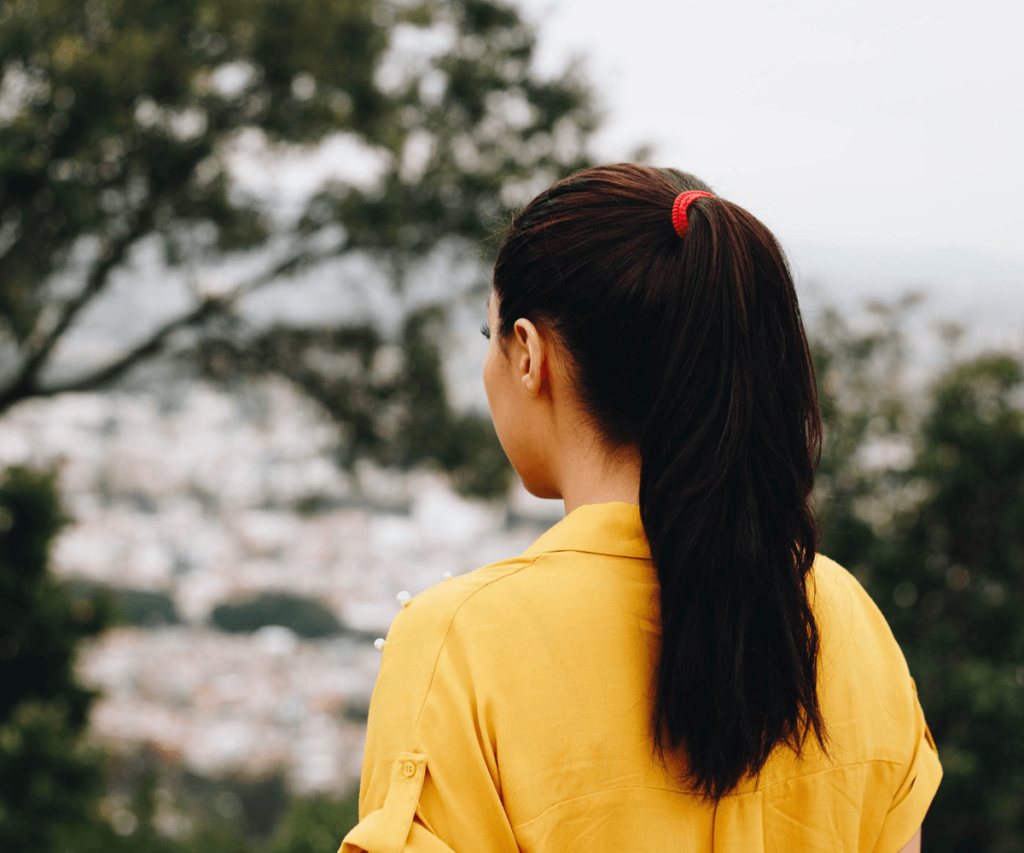 Pros:
They're fun and easy to use.
There's no commitment.
They are great for adding color to your ponytail

Cons:
They look the least authentic.
They can fall out more easily.

Sew-Ins
Sew-in hair extensions are the most permanent and seamless hair extensions you can come across. The natural hair is braided into a cornrow under thick layers of hair and then the extensions are sewn into the braid using a needle and thread. These types of extensions are best for people with thick hair. They can last up to 8 weeks with a max time of 4 months before damage may occur.

Pros:
They're almost invisible.
They won't fall out.
They're the most permanent.

Cons:
They stress the root.
You need thick hair to hide the cornrow.
They can be painful at first because of the tightness of the braid.

Glue In
Pre-bonded or fusion hair extensions are glued to natural hair with a tool similar to a hot glue gun. These types of hair extensions are the most damaging to your hair but can last up to four months.

Pros:
They're permanent.
They won't fall out.
They look authentic.

Cons:
They damage hair.
They damage the root.
They can cause hair loss.

Tape in
Applied with a heated tool, pre-taped hair extensions are applied at the roots on either side of the natural hair. Certain shampoos and conditioners can weaken the glue, so you need to be careful which products you use, how much you use, and how often you shampoo. Eight weeks is the max time they can be worn before replacing.

Pros:
They are applied in less time.
They are less damaging to hair and root.
They last up to two months.

Cons:
The glue can dissolve with certain hair products.
They can fall out.
They don't always look authentic.

Microlink
A small bead lined with silicone attaches the extensions to natural hair using a tool to tighten it and hold the hair in place. They are permanent and look very authentic and can be used for both thin and thick hair.

Pros:
They take about 2 to 4 hours to apply.
They don't require heat to apply.
Can wash the same as natural hair.

Cons:
They can damage the root.
Can cause hair loss if not removed properly.
Need to be repositioned every 2 to 3 months.
Why You Should Rely On The Experts For Hair Extensions
Stylists who specialize in hair extensions have the most experience with the application process, which really is the most important part. You can have the best quality hair extensions, but a poor application is going to give you away every single time. Having expert advice from someone who specializes in hair extensions will provide the look you are going for without having to worry.

Best Type For Your Hair
Those with thicker hair will do well with almost any type of extension because the point of application will be well hidden, but the application is even more important when dealing with thick hair. If the extensions are not applied correctly, the weight of the hair will cause them to fall out. For thin hair, clips can easily be seen as well as tape-ins.Glue in or microlinks might work better with thinner hair since they are applied with special tools that will tighten the extensions to the hair.

Best Type For Your Budget
Your hair stylist can suggest hair extension types that give you the best bang for your buck. Tape-ins can be a great choice for a more permanent solution than clip-ins but at a price easier on the wallet than other permanent types.

Best Type For Your Lifestyle
If you lead an active lifestyle where you are outdoors a lot or involved in a lot of physical activity, you are better off with sew-in extensions. These stay put best and there is no need to worry about glue or adhesive dissolving in water or because of excessive sweat.

Hair Extension Horror Stories
Clips Showing
When the wind blows, clip-ins run the risk of showing through the natural hair the most, but any extension can be revealed if you expose yourself to the elements. Be careful.
Glue or tape letting loose
Certain hair products, heat, humidity, and salt water can weaken glue or adhesive on tape causing huge chunks of hair extensions to fall from your head at the most inopportune time.
Natural Hair Too Short
One of the worst hair extension disasters comes when the natural hair is too short forming odd layers that look fake and reveal the extensions underneath.
Natural Hair Split Ends
If your natural hair is layered and has split ends, it will not form a seamless blend with the hair extensions making the hair look choppy and unkempt.
Hair falling out
Stress from overuse of hair extensions can cause natural hair to fall out in clumps. You might need to take a break between extensions in order to give your head a rest.

Hair extensions have come a long way and are now a main staple in our beauty arsenal alongside false eyelashes, microbladed brows, and lip plumpers. With advances in techniques and expertise when applying hair extensions, we may see them lasting longer than ever before. A beauty enhancer since 3400 BC, hair extensions don't seem to be going anywhere. It is important to always consult with a professional before embarking on any type of permanent hair extensions.

A big mistake most women make while trying to grow out their own hair is using the wrong type of hair extensions that can damage their hair causing breakage. This creates a cycle where they're using hair extensions for length until their hair grows but at the same time they are preventing their hair from being healthy enough to actually grow. Know your options, always get your hair extensions repositioned and replaced when it is time, and if you feel too much pulling, go back to your hairstylist and have them take a look. It is important to keep your hair healthy, even when wearing hair extensions, so be sure to take care and ask your stylist any question you might have. Contact Verde Salon and Spa for a hair extension consultation.